Creativity isn't easy but it can be powerful when Anne Stott tells you to Jump Go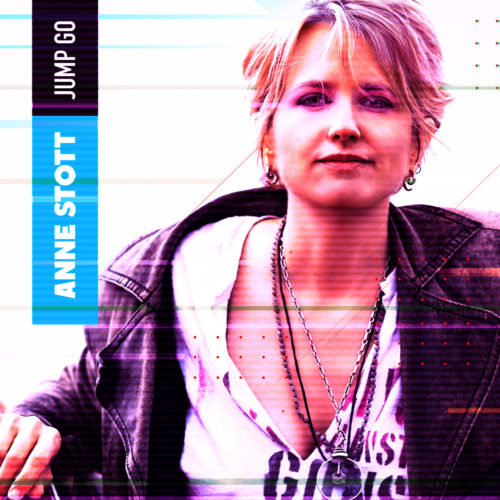 My friend and fellow TEDxProvincetown 2018 speaker, Anne Stott is at it again showing her incredible talent with Jump Go, her latest project hitting the airwaves, video and the "interwebs" this month.
I got to meet Anne last summer when we both performed at the first TedxPrvincetown. While I talked about finding myself and being the "big hairy bear in the room", Anne rocked the house with a talk on risk and losing yourself to find yourself.
So it was fitting that while I was in Provineton recently, Anne's newest project launched as I was coaching the 2019 TEDxProvincetown cadre of speakers get ready for a new set of talks on September 14, 2019, from 6 – 9 pm at Fishermans Halls (ticket are still available at TedxProvincetown.com/tickets).
Anne, rocked TEDxProvincetown in July of 2018 with her talk on the importance of allowing yourself to "get lost to find yourself", now takes on a new theme in her musical repertoire with Jump Go.
Anne describes herself as "an indie rock singer/songwriter, an actor, a political rabble-rouser, a thought thinker, and a dream dreamer." How could I not be drawn to her creative magic!
Jump Go is so good that Anne has been nominated for a New England Music Award for Best Female Performer.  Her previous two full-length albums include Love Never Dies & Pennsylvania, as well as a wealth of written word project including chapbooks and multimedia art pieces.
The video is up on youtube. WATCH IT HERE
The track is available at
Itunes HERE
Amazon AND HERE
Bandcamp OR HERE
The song is streaming on
Spotify SEARCH HERE
Apple Music AND THEN HERE
And pretty much anywhere else you might listen to music.
Including some radio stations around the country and in Canada.
Anne also has a Patreon page for those of you who believe in the power of crowdfunding to support independent artists, writers, and thinkers. The Patreon model takes all the industry out of the equation and harnesses the power of the artist/fan connection.  I am a Patreon believer myself and have used it to support the creative efforts of BawdyStorytelling and my favorite podcast Hillbilly Horror Stories.