Trending Today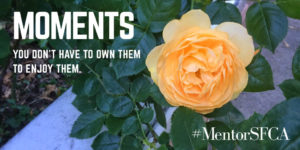 Trending Today is where I will keep you up to date on whats happening with my programs, work and more.
Under Learning Nuggets you can keep up to date and share comments on workshops and lectures – listed in the pages/menu will be placed for you to follow trending conversations by the hashtags #MentorSFCA.
Every Few weeks, I also create and share via my Facebook, Twitter, LinkedIn and Instagram account a Mentor Moments. These "moments" are a reflection or sentiment that are meant to inspire, provoke and engage people to action. You can find the Mentor Moments using the hashtag #MentorSFCA on any of these platforms or download the jpg for use (just link me back) on your own social media platforms here. 
Mentor Moments are also available for purchase with your branded website, logo or sentiment. All images are copy right FVStrona, and can be purchased for your use. Please email me for additional details.
I also now have the MentorSF's Question Of The Week series. This is a video Q & A series that come from you!
SaveSave
SaveSave
SaveSave
SaveSave
SaveSave
SaveSave
SaveSave