Engaged Content Development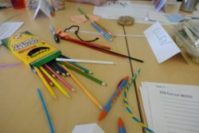 We all find that at times, we seek need to seek out an outside perspective. The Engaged Content Development process of MentorSF includes assisting you with developing, drafting, fine-tuning, and/or adapting content material suitable for your at an individual level or as a facilitated group process.
I offer several types of strategic assistance and/consulting. Below is a quick list for you to review along with common use definitions. In most cases, this should serve only as a guide. I recommend you contact me direct and schedule a free consultation to discuss you or your bussiness needs.
TRAINING 
Training is the art of imparting knowledge, experiences and insight through an interactive and engaged process that seeks to enrich, educate or advance the skill or development in oneself or others. MentorSF designed trainings seek to meet the needs of the client and collaboratively present a plan on how best to meet outcomes. Each training is tailored and customized the hosting program and includes an attendee survey report after the conclusion of the training.
CURRICULA DEVELOPMENT
Curriculum development is a process that includes the combined efforts to redesign and adapt an existing or new course curriculum. I make use of various approaches as well as offer suggestions to meet objective, outcome and course assessment goals.
DISTANCE/ONLINE EDU SUPPORT
Online Educational Support is a new feature for MentorSF. With many academic and service programs adopting the online learning medium, we have taken 10 years of online learning models offer a resource to faculty and trainers. Some established faculty or those new to online instruction find they need support with the technology side of learning, or have current course content that may benefit from a content review to refresh and/in introduce me technology based tools. This could include new only methods of course interactions, social media, mailing lists, survey and assessment and scheduling.
PERSUASIVE DESIGN
Persuasive Design is broadly defined as methods that are incorporated or introduced to support a change in attitudes or behaviors of the users through persuasion, technology and social influence. This can include techniques that assist in meeting the need for new "call to actions", corporate change leadership, reorganizations and more. Preserve Design does not use methods of coercion, rather, it builds on unity, democratic deliberation, goal setting and utilizing clear process steps towards a common end goal.
 [powr-contact-form id=003e06ac_1491197097919]