Sometimes we have to work on the insides to make the outside shine
Last year I wrote about my discovery of Rodan & Field. They offer a line of facial products, traditionally marketed for women, but with a growing male fan base. I use several of the products on a daily (sometimes twice daily) routine and have been overwhelmingly happy with the results.
Being someone who generally isn't a big fan of lots of steps, I found the simple three-step method worked perfectly for me.
My Fav Rodan & Field Products include
ENHANCEMENTS Active Hydration Serum. This I carry everywhere. First thing I put on after a plane trip or when I am in super drying environments. A little goes a long way and it dries super fast. I put it on either before my moisturizer and sunscreen or as a "touch up" during the day when my face is feeling drawn and dry.
ENHANCEMENTS Micro-Dermabrasion Paste; which I use 1 -2 per week as a scrub before I get into the shower.
ENHANCEMENTS Active Hydration Bright Eye; for a real treat. I use this one less than I should, but when I remember to use it I can see the difference under my eyes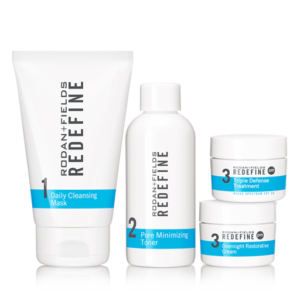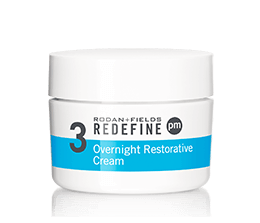 Step 1 REDEFINE Daily Cleansing Mask ( When I am not using the Enhancements paste.) This takes only a few minutes to put on and by the time I am ready to shower, it's dry and ready to wash off. I tend to use this most day and didn't find it drying and causing any redness. In fact, I found it I actually have fewer issues with my face overall. 
Step 2 REDEFINE Pore Minimizing Toner. Toners were an oddity for me, but I find that a quick swipe after I wash my face, help close the pores and leave my face more read for the moisturizers. Since it comes in the kit, I use it.
Step 3 am REDEFINE Triple Defense Treatment Broad Spectrum SPF 30  is my daily facial conditioning moisturizer and sunscreen. But since I prefer to use a higher spf I actually use this and add a little of my preferred sunscreen about 30 minutes later to ensure I am getting the coverage I want.
Step 3 pm REDEFINE Overnight Restorative Cream. While counter-intuitive to me initially, Putting the overnight cream on my face actually helps so that in the morning I wake up less dry and puffy.
You will notice there weren't any links on this page initially – but I recently got so many folks asking that I have added them back – if you would like more information on Rodan & Field Products, you can click on the "I don't have an account" which will bring you right to the full store without you having to  add any details.
---
Note: So a few folks have already asked about the comment above; the reason for that was that while I do have the ability to make sales as part of the R&F team plan I am on , unless I want to pay a monthly service fee; they dont provide a custom account url. They reserve that for the "pulse" group. But as of July 2019, I paid the monthly plan since so many people responded and it is now linked to my account so that means I do get a few bucks from any orders using these links.