How to Deal With a Lack of Energy at Work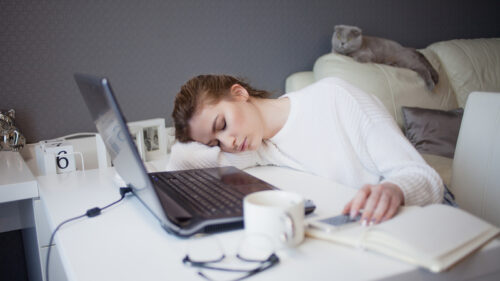 To ensure our job performance and productivity is not hindered, we must take action when feeling low on energy at work. Whether it's due to a hectic agenda, the effects of insufficient sleep or just an overall sense of apathy, discovering strategies to restore our vigor is critical for staying centered and enthusiastic throughout the day. Here are three successful approaches that can help combat fatigue in the workplace.
Change Your Routine
To revitalize your energy levels, you must take a look at the way in which you spend each day. Perhaps rearranging your work schedule so that you're getting enough restorative sleep or taking regular breaks to move and stretch will do the trick! Alternatively, lifestyle changes such as eating nourishing meals, consuming more water throughout the day, or indulging in meditation can help decrease stress and enhance focus simultaneously. By making small yet effective adjustments to your daily routine, it is possible for you to get back on track with renewed vigor and alertness during working hours.
Get to the Root
The second way to tackle low energy levels is by getting to the root issues that might be causing them. Sometimes, our lack of energy is the result of deeper issues like chronic pain, anxiety, or depression. If you're struggling to stay focused at work, it might be worth speaking with a healthcare provider or therapist to help identify any underlying health concerns that could be contributing to your fatigue. It is usually exhaustion from chronic pain that causes low energy so make sure you look after yourself always. By addressing these issues head-on, you can work towards finding long-term solutions that will not only boost your energy but also improve your overall health and wellbeing.
Focus More on Your Health
In order to raise your energy at work, it's important to concentrate on being in the best shape possible. You can achieve this by exercising often, eating nutritious meals every day and engaging in activities that nurture you. Not only will these practices reduce stress levels but they're also essential for boosting productivity and engagement at work! This might mean seeking medical treatment for chronic pain, adopting a regular exercise routine, or making adjustments to your work environment to help reduce strain on your body.
To tackle low energy levels at work and reap the benefits of increased productivity, overall engagement, and life satisfaction requires a thorough approach that addresses both lifestyle practices as well as underlying health issues. When you make alterations to your daily routine, address fundamental problems head-on, and prioritize your wellbeing – positive results will come swiftly! By executing this plan with determination and utilizing the correct resources available to you, conquering sluggishness in no time is within reach.
Check out this article on how to increase your productive output at work!