Checking in from the remote field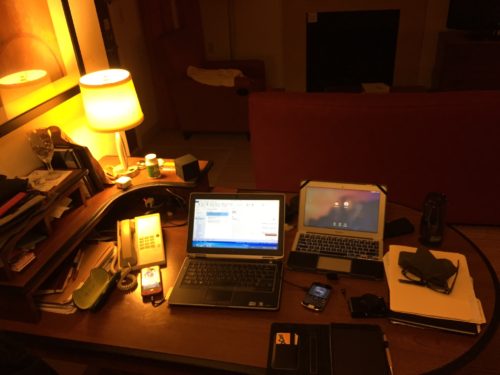 Hi Everyone
I just wanted to take a few minutes and check-in.
As many of you know I am in my third week of "Shelter In Place" here in San Francisco. I am supporting the local health department with COVID-19 activities. It dawned on me this morning, after my second conference call before 7:30 am, that while I normally work remotely – this may be a new world for you.
So I am sharing a few tricks I use to get through the week with some sanity. 
Remember you are not alone. While it may feel like the world is a lonely place right now. Many others are feeling it as well and people are available to talk, listen and share.  This isn't the time to get stuck in emails and text, and likely the break will be good for both. So pick up that phone and call!
Staying Healthy is more than just being aware of what you touch. How is your home ergonomics? What works for the occasional few hours isn't going to be all that great on your backs, necks and arms week after week. Check out this article on how to optimize your workspace at home.
Watch what you are eating. Ok, I am one of those people who tends to snack all day while working. So I needed to figure out a way to not get stuck in a sugar crash or gain unwanted pounds.

Instead of a bag of candy on your table or desk – get that bag of fruit, wash them well and leave them in various bowls around the home. Let everyone know that these are "anytime" foods that they do not need to be asked for. Apples, pears, oranges, banana are perfect for this but buy what is in the season for you.
If you are a fruit salad fan – this is the best time to make a

huge

batch up and portion them into those random "lock & locks" and canning jars that you accumulated for your summer crafting. Making up a bunch in smaller containers will make it a "grab and go" for you and your family.
Prepare ahead; here are two of my favorite make-ahead breakfasts which means I don't have cook up something every day. Try overnight Oatmeal or Chia Seed pudding (I make mine dairy-free and with chocolate once a week). They both require no cooking and if you mix it up the night before – it will be ready for breakfast and lasts for several days. Another favorite of mine is Peanut Butter Protein Oatcakes. Now before you roll your ears they are actually really good. You can swap out lots of the ingredients to match your dietary needs too. But I make up a huge batch on Sundays, cool and freeze them. They thaw quickly and toast up well. They can be eaten like a pancake with jam, butter or syrup, or as the bread for a breakfast PBJ sandwich.

Take Breaks. Ask "Siri" or "Alexa" to remind you to stand every hour or so. Take a walk to the window or even step outside the door.  Have daytime cuddle breaks with your kids or your pets. Take a moment for self-care and shower, brush your teeth etc. Walk your dog. They need outdoor time. Just be health aware.
Plan ahead Discuss with everyone in your space and negotiate "me time", "work time" and 'family time". Most folks tend to overwork and then stress themselves out when they first jump on the "remote work" option. It is very easy to get lost in that "one last thing". Yet, the next thing you know it is now 8:00 pm and you have been at it since 7:00 am.
Ok – I just wanted to give you all a few ideas and remind you, we are all adjusting to lots of changes and its ok to be stressed.  People are available to talk. Stay in touch with your Advisors if you are feeling like you are overwhelmed in the course and discuss options