2018 Spring Guest series with Louis Karim on "Where I Belong Now"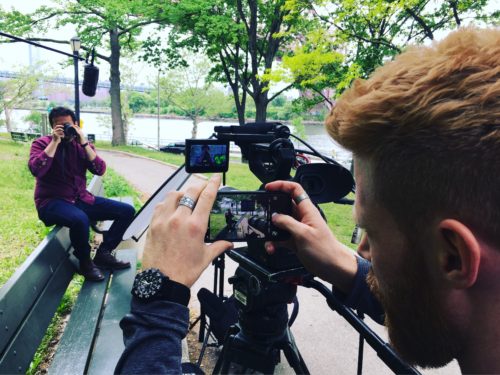 Some new voices on Engage
As part of my
Spring Guest
Series
, I reached out to a cross-section of my friends and colleagues who have taken creative and engaged paths towards developing a career. The first of the series is from the mind of a longtime friend, and creative visionary 
Louis Karim
. His extensive background in commercial media helped to make him a true visionary in media-related content from a Middle Eastern lens.  We took some time together to discuss his
"Where I Belong Now"
as a perfect example of how staying true to your passions, natural and professional dream can take shape to create a compelling story worthy of an international audience.
Louis Karim is an award-nominee and quad-lingual Lebanese American Creative Producer-storyteller and media consultant with more than two decades of experience to support his efforts. He is seen as a visionary individual among many in the industry, with his strong work ethic and professionalism in directing and creating broadcast and social media platform video content. He brings with him a significant experience in lifestyle, brand development, editorial design, digital video content social media and broadcast art directing. Something I have always appreciated about Louis is his strong aesthetic sense, and eye for detail. He has married his creative mind with a french style that can transfer concepts to visual images in a way that leaves you wanting more.
Generation After War from Louis E Karim on Vimeo.
---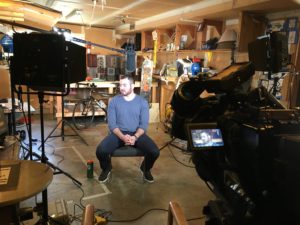 Frank:
Louis, how did you get to be doing this kind of work?
Louis:
In 2011, my former boss asked me to join the team of a magazine program in a storytelling format, It was an outstanding challenge that I felt deeply in lo
ve with, my first story was the 25th anniversary of Keith Haring. As you know the storytelling format had developed since from Q&A to Docu-telling style 
Louis:

"Where I Belong Now"

 is the story of 5 immigrants survivors from heated countries in the Middle East where situations at home now created challenges tor them to live and thrive as day to day life became a struggle. Each seeks to flee oppression and political pressure with a need so great, that the risk and fear associated with leaving to seek refuge in the U.S becomes a compelling reason to try.
Frank:
What struck you most about the stories?
Louis: It wasn't their differences. What I resonated with the most, was that they each would share stories and experiences of commonality, from desire, to situations and themes that marked their journey. This common thread is what ties many immigrants who seek a new life beyond the borders of the birthplace.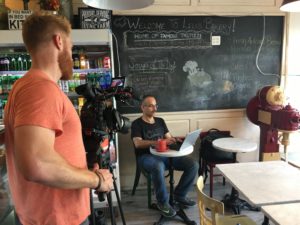 Frank:
In
"Where I Belong Now"
what were some of those common these the viewers will see expressed?
Louis: Much of it is about transitions and self-assessment. The inner dialogues immigrants have that questions the motive behind the move, and then becomes the voice of worry as they seek to settle into a new place. They included:
Is living in the United States the answer?
Taking the risk
Leaving behind

 loved ones, family, and friends

Living in limbo
Living in nostalgia

 

Staying connected with the homeland
Start a new life

 

Fear of failing

 

Would (or could) they return

 to a homeland?

Where do they 

belong now
Frank:
Louis, how long did this take?
Louis: I 
worked on this 
project, over the course of 
2 months
with content 
filmed in 4 cities and different production crews.
Frank:
Louis – did you travel to each? 
Louis: Yes Frank, I traveled to each city: Philly, NY, SF and Seattle.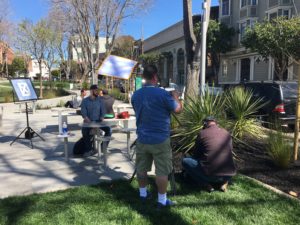 Frank:

Having the 

different crews must have been a challenge

.
Louis:

As you can imagine with your experience of working remotely so often, it had its moments.  Each story had a different crew and equipment that was available, so that also created its own unique challenge. I worked to 
maintain the
 same production quality running through, yet stay true to the story told. Also important to me was the music used. I choose a 
different piece of music theme for each one for reference and to honor the differences of the story.
Frank:
Are you still own touch with any of the storytellers?
Louis:
Yes. [smiles] The experience became more than just one getting the shot. In the end, 3 of them became close friends.
Frank:
When working in the storytelling mode, what technique do you think added more impact to the video stories? 
Louis: I think the extra time to balance and strategically place the captions & quotes, during 
editi

ng added a strong impact on delivering the message of a survivor.
Frank:
Louis, where can people find you the days?
Louis:
Recently I started my social digital video blog at
Arts2Vivre
. As Founder and CEO, my hopes is that it will mature into a modern, trendy and contemporary social site; I remain active on most social media platforms: like
Facebook
,
LinkedIn
, or on  
Twitter @louiekarim
,
Vimeo
and
Instagram
.
---
Keith Haring "Untitled Artist"; 2011 New York TV Award

Food and Fadawa "Noor Theatre"; 2011 New York TV Award

 

MYJIHAD; 2012

 

New York TV Award

 

Roads to Damascus "Visual-Musical live performance";2013 Cine Award
SaveSave